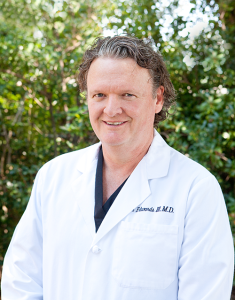 Dr. A. Joseph Edwards III graduated from the Savannah Country Day School in 1982. He graduated with honors from the University of Georgia with a Bachelor of Science degree in microbiology.
He earned his medical degree from the Medical College of Georgia. He completed a general surgery internship at Memorial Health University Medical Center. After his internship, he completed a residency in obstetrics and gynecology at Memorial Health University Medical Center.
In 1995 he joined his father, Dr. A. Joseph Edwards, Jr. at the OBGYN Center. Dr. Edwards is board certified and a fellow of the American College of Obstetrics and Gynecology. He is also a member of the Medical Association of Georgia.
He holds state medical licenses in Georgia and South Carolina. He specializes in obstetrics, gynecology, infertility, pelvic pain, abnormal uterine bleeding, ovarian cysts, laparoscopic surgeries, urinary incontinence, hormone replacement therapy and abnormal pap smears.